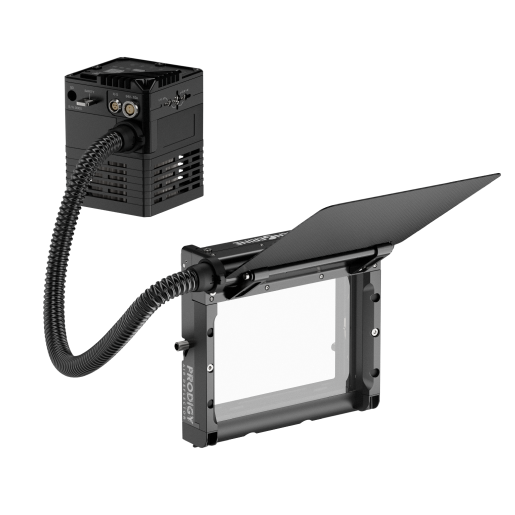 Bright Tangerine Prodigy Air Deflector
The Prodigy Air Deflector is the perfect solution for keeping a clear lens. With a simple push of a button, the patented design can be quickly deployed to provide you with the clear shot you need in any condition.
Ask for a demo @ our store.
More info in our store and on the Bright Tangerine website.
No More Spinning Discs
Stop going in circles with old technology, the Prodigy uses air travelling at pressurised air travelling at over 300 mph to instantly clear the frame for a clear shot. The special piece of glass is optically clear with no effect on image quality or exposure, and has excellent impact resistance.
For All Conditions
With perfect vision, you'll never miss a moment. From live events, sports, documentary and feature films – capture anything in any weather. The Prodigy can handle the toughest of conditions from rain, snow, saltwater, dust & debris.
Portable & Travel Ready
Take the Prodigy on your next big adventure, powered by industry-standard 24V, there's a wide range of power and battery options available to use, including the new B & Gold Mount Plus offerings. The standard 2-pin LEMO input has built-in automatic polarity switching preventing any chance of shorting out and damaging the compressor when using different cable standards.
Shielded From The Elements
Protect your shot from above with the fast-mounting carbon fiber top flag. Make adjustments on-the-go without fussing around with handles or locking mechanisms. You can trust the air compressor to keep running no matter the environment; its IP66-rated waterproof construction ensures durability and reliability in even the most extreme conditions.
Easy Operation
The buttons on the compressor's control panel are big and well-lit, making them easy to operate even with gloves on. With three speed options to choose from, you can easily select the one required to match the situation and your visual style.
Three Stage Filtration
The Air Head can also be used as a standalone matte box and builds on the foundation set by the Misfit Kick. The large field of view makes it ideal for wide-angle lenses, with the Reveal stage delivering the third stage without the need of any additional accessories.